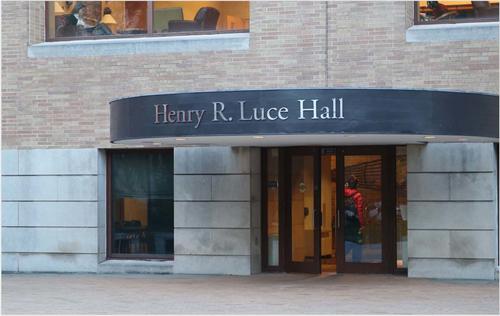 In a darkened Luce Hall, frames showing vibrant animation — like soaring drone shots — danced across the screen as viewers watched a series of short Japanese films all related to Japan.
The New York Japan CineFest 2019 at Yale showcased eight independently produced short films that ran 82 minutes in total on Saturday. The original program, hosted in New York in June, ran 16 short films that focused on Japan or were made by filmmakers of Japaense origin. The special showing at Yale featured half of those films, followed by a discussion panel with film director Megumi Nishikura, film subject Joseph Lachman '15, animation director Masayoshi Nakamura and animator Magico Nakamura. Director of the New York Japan CineFest Hiroshi Kono and Jason Douglass '22 — Ph.D. candidate in film and media studies and East Asian languages and literatures — organized the event.
"We will [often] bring just a single filmmaker, director or actor [for discussion]," Douglass said. "An event like this allows students to hear from different parts of the process [of film production]."
The film festival was also held in Greenwich, Connecticut for the past five years, according to Kono. Yale School of Architecture professor Yoko Kawai suggested holding a screening of the NYJCF at Yale, Douglass said.
Kono said that "this event was great" and added that it was "very meaningful to hear the thoughts from the directors."
One of the directors, Nishikura, found Lachman's writings on Japanese-American imprisonment camps and emailed him about collaborating to make a film.
Lachman's great uncle Samuel Shoji was imprisoned for 13 months at both the Minidoka internment camp in Idaho and Camp Harmony in Puyallup, Washington. Nishikura decided to make a documentary on Lachman's pilgrimage to Minidoka, Lachman said. The resulting film, named "Minidoka," was shown on Saturday.
"I wanted to … walk in Joseph's shoes, to feel the sides of the building, to feel the heat and the dust, to put the person there in that space," Nishikura said during the panel discussion.
Lachman said that the documentary allowed him to share a story on screen that he has previously been writing on paper.
"I realized how much value this will have for kids in the future, to see this part of our history preserved," he said. He explained that the film was not only about him, but also "about my family, my community and other communities."
Animation director Masayoshi Nakamura and his wife and colleague Magico Nakamura came from New York to attend the event. Masayoshi Nakamura's film "Albatross Soup," shown on Saturday, is an animated short that traces a story of over 50 people attempting to solve a riddle. During the panel, he said the film was "creatively satisfying" and that he would like to do something similar in the future.
The program "has a very nice range of films," Masayoshi Nakamura said. "Mine was very wacky, weird," but others were deep or silly, he explained.
In interviews with the News, attendees said they enjoyed the mix.
"It was a good variety of films," Noriko Morisue GRD '19 said.
She added that she "found it really interesting to see social issues [and] cultural issues" tackled by the films.
"[The program of films] is contemporary and short," attendee Irina Lomakina said. "It's interesting to see what [filmmakers are doing] now."
In an interview with the News, Kono said when Kosuke Furukawa, Yasu Suzuki and he came up with the New York Japan CineFest, which debuted in 2012, they were looking to "make a package" so people could "enjoy short films" that theaters no longer feature.
Next year, new films will be chosen for the New York Japan CineFest.
"I would like to hope that this could be the start of an annual event at Yale," Douglass said.
The NYJCF at Yale was sponsored by the Council on East Asia Studies and the Richard U. Light Fellowship.
Giovanna Truong | giovanna.truong@yale.edu | Yale Daily News