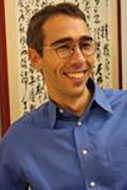 The Council on East Asian Studies congratulates Lucas Bender, Assistant Professor of East Asian Languages & Literatures, one of four Yale faculty members honored with the Poorvu award for excellence in teaching.
Yale College Dean Marvin Chun will host a gathering in the spring of 2022, in person if public health conditions permit, to honor the recipients of this year's annual Poorvu Family Fund for Academic Innovation award, created to recognize excellence in innovative teaching. This year's recipients are Lucas Bender, Thomas Allen Harris, Lisa Messeri, and Candice (Candie) Paulsen.
The award, given to outstanding junior faculty members at Yale who have demonstrated excellence in teaching in undergraduate programs, enables them to dedicate the summer to research essential to their development as scholars and teachers.
Professor Bender researches China's medieval period, focusing primarily on the intersection of thought and literature. His first book, on the Tang poet Du Fu (712–770), was published in 2021, and he is currently at work on a new project detailing the process by which the medieval Chinese tolerance for obscurity gave way to a more optimistic account of our capacity for knowledge. He teaches introductory and advanced courses in Chinese literature and philosophy alongside occasional forays into comparative topics.