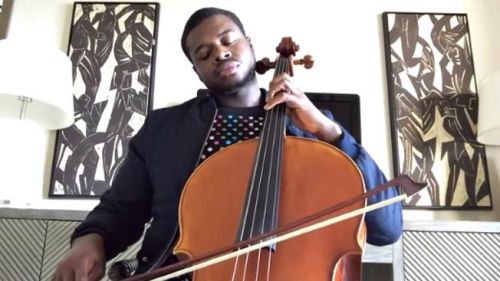 Lifelong musician and Yale University graduate Kevin "K.O." Olusola soared to fame as a member of popular vocal quintet Pentatonix and brought home his first Grammy Award Sunday night.
"AHHHHHHH WE WON A GRAMMY!!!!!!!!!" Olusola tweeted from the awards ceremony, before taking the stage again to accompany Pharrell on cello.
According to a tweet from his alma mater, the multi-talented Olusola graduated from Yale in 2011, the same year Pentatonix got together.
Olusola was pre-med at Yale and spent 18 months in Beijing as part of a fellowship through the university's East Asia Studies program, according to his bio on the Pentatonix website.
But music was his first love – his true love.
Olusola picked up cello, piano and saxophone at an early age and has performed twice as a soloist at Carnegie Hall, a dream come true for any up-and-coming musician, his bio says.
He developed "celloboxing" skills while in college and won second place in the international "Celebrate and Collaborate with Yo-Yo Ma" competition in 2009, according to his bio.
After graduation, Olusola collaborated with Scott Hoying, Mitch Grassi, Kristin Maldonado and Avi Kaplan to form Pentatonix, which gained notoriety after winning the third season's of NBC's "The Sing-Off."
According to his Twitter account, Olusola will release the first single from his upcoming solo cello EP, "The Renegade," on Tuesday. The album is slated for release March 10.