New York Japan Cinefest 2019 at Yale
Introduction by Hiroshi Kono-NYJCF Program Director
Saturday, October 5, 2019 -

7:00pm

to

10:00pm
Auditorium, Henry R. Luce Hall
34 Hillhouse Avenue
New Haven
,
CT
06511
Highlighting some of the most exciting new voices in cinema, New York Japan CineFest presents a program of short films by emerging Japanese and Japanese-American filmmakers. Followed by a discussion with Megumi Nishikura (director, Minidoka, Joseph Lachman (YC '15; actor, Minidoka), and Masayoshi Nakamura (animation director, Albatross Soup).
Megumi Nishikura is passionate about addressing our global and social issues through documentary storytelling. She spent five years working for the United Nations, producing and directing documentaries on environmental issues such as climate change and biodiversity. Megumi has captured stories of 9/11 survivors and those impacted by the 2011 tsunami in northeastern Japan. Her award-winning independent film, "Hafu—the mixed-race experience in Japan," screened theatrically throughout Japan and aired in the United States on PBS. In 2015, she produced "Fall Seven Times Get Up Eight: The Japanese War Brides" which won numerous short documentary awards and aired globally on BBC World News. Megumi currently works as a producer at Blue Chalk Media.
Joseph Shoji Lachman is a 4th/5th generation Japanese American who works full time at Asian Counseling and Referral Service in Seattle, Washington helping empower AAPI communities to participate in the democratic process. He currently serves as the Civic Engagement Program Manager, helping to ensure that AAPI community members of all backgrounds and language abilities in Washington state can meaningfully engage with local democracy throughout the year through voter registration drives, voting parties, candidate forums, rallies, meetings with legislators, town halls and other activities.
Masayoshi Nakamura AKA Good General is an animation director and illustrator. Emerged from Nishinomiya, Hyogo Japan, he moved to New York City to study graphic design where he absorbed the city's rich culture: fine arts, graphic design, photography, street art, and music. Those influences lead him to focus on motion graphics where you can combine all the elements into one art form. Upon receiving a BFA at the School of Visual Arts, he started his career as a motion graphic designer and has been living and working in New York ever since. Through his career, he has started focusing more on drawings and hand-drawn animations in which you can bend and morph in and out of shape, space and time.
---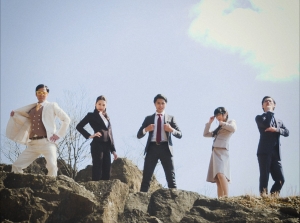 Formal Warrior Suit Ranger
Dir. Shinichiro Ueda. 2018. Japan. 10 mins. 
Five men and women in suits confront villains who are disturbing the city. They are The Suit Rangers. They are properly dressed for both their occupations and their fight with the villains.
---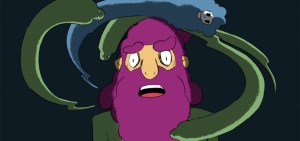 Albatross Soup 
Dir. Winnie Cheung. 2018. USA. 7 mins. 
Albatross Soup is a delightfully fluid animation that complements a chorus of voices attempting to investigate a puzzling suicide: a man gets off a boat, he walks into a restaurant and orders albatross soup. He takes one sip…pulls out a gun, and shoots himself. So…why did he kill himself?
---
OFUKU 
Dir. Sayoko Akutsu. 2016. Japan. 15 mins. 
OFUKU has been searching for her mother since the Edo era, 360 years ago. Eventually, she meets Tomiko, an aspiring actress, who is plagued by one misfortune after another. Together, the cook up off-the-wall ideas to rescue Tomiko from a financial crisis instigated by her money-grubbing boyfriend.
---
Minidoka 
Dir. Megumi Nishikura. 2019. USA. 14 mins. 
Young Seattle-based activist Joseph Shoji Lachman, who is fourth generation half-Japanese, sees parallels between his own family's history and the Trump administration's attempts to ban Muslims, refugees, and immigrants. In order to understand the ordeals his family endured during World War II, Joseph travels to the Minidoka concentration camp in Hunt, Idaho. 
---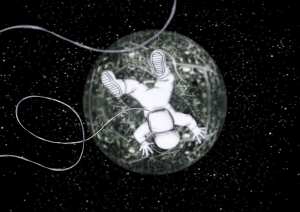 AYESHA 
Dir. Seiji O'Hara. 2018. 6 mins. Courtesy of Kadoma International Film Festival.
There was a small planet in the middle of the broad universe. Everyone there is paying attention to one thing: seeing their planet from the outside, from images captured by a drifting astronaut. 
---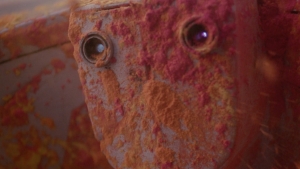 DONNY THE DRONE 
Dir. Mackenzie Sheppard. USA. Japan, USA. 11 mins. 
Donny the Drone has just been named the "Person of the Year" by World Times magazine. Donny takes the stage to dramatically tell his story of how he came to have real human emotions. His anecdotes are portrayed with highlights from his world-spanning adventures that have shaped who he has become. 
---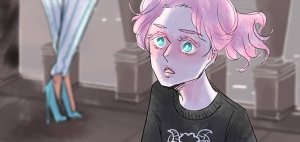 A Banal Man 
Dir. Kurumi Hakamata. 2018. Japan. 11 mins. Courtesy of Aichi International Women's Film Festival.
I could not bear a child. So I made robots instead. But people hated and rejected them. I made up my mind to get even with the person responsible for destroying the robots. Anyone who would want to kill my beautiful children must surely be a monster.
---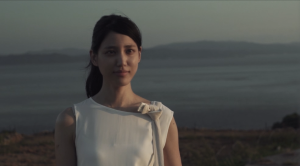 Dream
Dir. Tekkou Nogami. 2017. Japan. 8 mins. 
What if there was one day you could go back to before you go to heaven? When would you choose? Who would you spend it with? What would you say to them? From the border of heaven to that day, he goes back to one summer day to tell his true love his thoughts.
Co-sponsored by: The Richard U. Light Fellowship