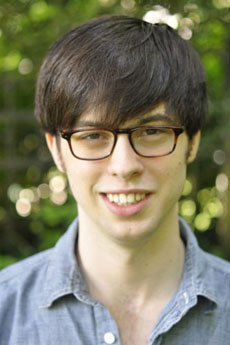 Trevor Davis (Saybrook College, Class of 2013) was one of two winners of the 2013 Williams Prize in East Asian Studies for his essay submitted to the History Department, "Pure Land and the Social Order in Twelfth-Century China: An Investigation of Longshu's Treatise on Pure Land."  The Council on East Asian Studies had a chance to catch up with Trevor over the summer and he kindly answered a few of our questions about his essay. 
To begin, could you please provide an abstract or brief summary of your essay entitled Pure Land and the Social Order in Twelfth-Century China?
During the Song dynasty, the secular elite increasingly took an interest in proselytizing Buddhism.  In this essay, I look at one of these proselytizers, Wang Rixiu, and consider how he felt social status should influence the way people practice their faith.  In a text that seeks to attract people of all strata in a communal effort to practice Pure Land Buddhism, Wang Rixiu is also concerned with promoting a sense of order in society.  And although he proclaims the transcendence of worldly distinctions upon death, it seems that the social order he envisions in this life involves the careful maintenance of such distinctions.
How did you first get interested in your topic of research?
I was inspired to pursue this project after attending a talk by Professor Daniel Getz on the Longshu jingtu wen, the treatise that would form the focus of my study. Even before this, I knew I wanted study lay Buddhism, but over the course of the presentation, I realized that this was the text I was looking for. I found myself drawn toward Wang's mundane, humanistic concerns and his intricate depiction of society.
What would you say was the most interesting finding of your research?  Were there any surprises?
There is a tendency to emphasize the egalitarian sensibilities of Pure Land proselytism movements, be it in Song China or in Kamakura Japan.  But in his treatise on Pure Land, Wang Rixiu frames adherence to social hierarchies as a way in which people can attain salvation. Clearly, this is a very different perspective.
What was the most challenging part of your research?
The age-old historian's dilemma is the scarcity of source material.  Wang Rixiu wrote several others texts, but unfortunately they are no longer extant.
What resources at Yale were the most helpful for your research? 
I would not have been able to complete this project without the guidance of my professors, and in particular my advisor, Valerie Hansen. Her feedback was helpful at every step.  Furthermore, Pauline Lin's Sinological Methods course helped me develop my research skills and better utilize Yale's vast library resources.  Koichi Shinohara and Kang-i Sun Chang have further inspired my passion for Buddhism and Chinese culture.  And, lastly, the lectures and conferences hosted by the East Asian Studies Council and the Religious Studies department were other important forums for developing my interests in these subjects.
Were you able to travel to Asia during your time at Yale?  If so, where and when, and what type of program?  Did you go on a Light Fellowship? 
I received a Light Fellowship to study Chinese at Harvard in Beijing and Japanese at the Hokkaido International Foundation.  I also interned in Shanghai last summer with the International Bulldogs program.  These experiences were integral to my studies at Yale.
How important would you say your language study at Yale was to your research?
This project required extensive reading in Classical Chinese, as the text has never been translated into English. Wang Rixiu wrote in a relatively simple style given his interest in reaching out to the common people. Nevertheless, his frequent use of Buddhist terminology took some time to get used to.  Five semesters of Classical Chinese aided me greatly, as did my classes in Buddhism.  I also used secondary sources and reference materials in Japanese.
When you had some downtime on campus, what did you like to do for fun?  Any particular interests or hobbies related to East Asia?
I love watching old Japanese movies, especially those of Ozu Yasujiro.
What advice would you offer to rising seniors about how to tackle their senior theses?
Don't be afraid to modify your plans.  By all means have a direction, but don't feel locked in.
What will you be doing after graduation?
I received a Parker Huang Fellowship to attend the Inter-University Program in Beijing.