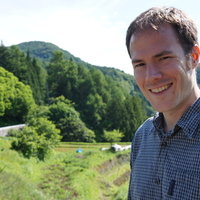 The Council on East Asian Studies at Yale University is pleased to announce that the Stanley Weinstein Dissertation Prize for academic years 2014-2016 has been awarded to Matthew Mitchell (Duke, 2016) for his impressive Beyond the Convent Walls: The Local and Japan-wide Activities of Daihongan's Nuns in the Early Modern Period (c. 1550–1868).  Mitchell's dissertation was the unanimous selection of the prize committee out of a very strong pool of nominees. 
Based on extensive first-hand research of Japanese manuscript and archival sources, Mitchell's dissertation was universally praised by the prize committee as a meticulous work of scholarship that illuminates a host of broader topics in the study of Japanese Buddhism and Japanese religion – topics including gender, class, pilgrimage, material culture, social networks, doctrinal history, and economic and institutional history – through a case study of the convent Daihongan and its branch temples that sheds much light on lived religion in eighteenth and nineteenth century Japan.  
In his dissertation, Mitchell explores the tensions and power struggles between the convent Daihongan and the (male) monastic compound Daikanjin at Zenkōji, and in doing so he transforms our understanding of the role of Buddhist nuns in Japan during this time, showing that far from being cut off from society they played a wide and active role beyond the convent walls in their interaction with Japanese society, including influencing the highest levels of Japanese politics. 
Mitchell demonstrates how the nuns of Daihongan had to negotiate a number of complex forces in order to preserve their autonomy and agency.  No passive subjects vis-a-vis an androcentric Japanese society and Buddhist tradition these nuns were actors who took ambitious initiatives and who to a high degree were able to shape their own world, and by extension the entire  world of early modern Japanese Buddhism. 
Mitchell's study will serve as a model for how a fine-grained focus on particular Buddhist institutions and their histories can allow scholars to reach wide-ranging conclusions about the nature of Buddhism's interaction with the wider society in which it has always existed. 
---
The Stanley Weinstein Dissertation Prize was established in 2008 to honor Professor Weinstein's many contributions to the study of East Asian Buddhism in North America. The prize will be awarded once every two years to the best Ph.D. dissertation on East Asian Buddhism written in North America during the two previous years.  The dissertation must be based on original research in the primary languages and should significantly advance our understanding of East Asian Buddhism.  East Asian Buddhism is understood for this competition to refer to those traditions in East Asia that take Chinese translations of the Buddhist scriptures as their basis (Chinese, Japanese, Korean, and Vietnamese).  Studies of East Asian Buddhist communities in the West are not eligible for consideration.  The recipient of the award will be invited to give a public lecture at Yale under the auspices of the Council of East Asian Studies.  There is an honorarium of $1,000.
For the next round of the competition, Ph.D. programs in Buddhist Studies/Religious Studies in the United States and Canada will be invited in the future to nominate one dissertation that was completed during the academic years 2016-2017 and 2017-2018.*  A call for nominations with complete requirements and instructions for submission will go out during the summer of 2018.  The deadline for the next round of nominations will be December 31, 2018.
* Nominations by the authors themselves will not be accepted.