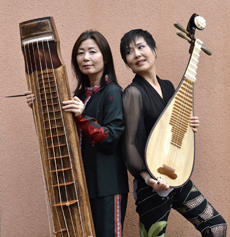 Traditional and contemporary musical traditions of Korea and China were the focus of a workshop and performance that took place at Henry R. Luce Hall on Saturday, November 2, 2013.  Sponsored by the Council on East Asian Studies at Yale University, the two-part, public event was conducted by Asian Sound Revolution, featuring internationally acclaimed musicians and composers Jin Hi Kim and Min Xiao-Fen.  The workshop provided a brief introduction to Chinese instruments imported to Korea, Korean court music, and old and new music for the Chinese pipa and Korean komungo.  The komungo is a six-stringed zither indigenous to Korea that originated in the fourth century. The pipa — sometimes called the Chinese lute — is a plucked string instrument with a pear-shaped wooden body that has been played for nearly 2,000 years in China. 
The workshop included a question and answer session with the audience that covered topics of shared musical traditions, musical notation, cultural concepts of time and rhythmic patterning, and the use of technology to transform musical traditions for the modern age.  The standing room only performance showcased old and new "improvisations" that included traditional pieces and original compositions.  Both the workshop and concert included other traditional instruments, breathtaking vocals, as well as electric and prepared versions of the pipa and komungo, which provided a futuristic sound to such ancient instruments. 
Jin Hi Kim (www.jinhikim.com) is a Guggenheim Fellow in Music Composition who is well-known for designing the world's first electronic komungo.  She has performed in renowned concert venues across the globe and is an awarded 2013 McKnight Visiting Composer with the American Composers Forum.  Pipa player, singer, and composer Min Xiao-Fen (www.bluepipa.org) is internationally known for her artistry on the pipa, whether performing classical music or in avant-garde settings.  Min began her career as a soloist with the Nanjing Traditional Music Orchestra, has performed with world-class symphonies, and has been a featured soloist at renowned international music festivals.  Both artists have won numerous awards for their compositions and have focused their careers on artistic collaboration and education to bridge musical traditions across cultures and time.
Images from this event can be found in our gallery.