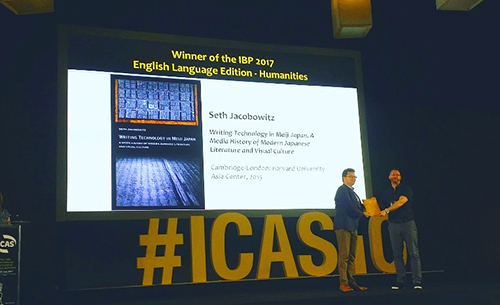 Seth Jacobowitz, Assistant Professor of East Asian Languages & Literatures, has won the 2017 International Convention of Asia Scholars Book Prize in the Humanities for his book Writing Technology in Meiji Japan: A Media History of Modern Japanese Literature and Visual Culture.
Superbly written, Writing Technology in Meiji Japan deploys a sophisticated analytical prism to examine the interlocked transformations of literature, language, and visual culture during a historical epoch known for its increasing efforts towards standardization. Meiji Japan is masterfully placed in conversation with the global appearance of new media technologies. The result is a highly original media history that rethinks and reconceptualizes the emergence of modern Japanese literature and culture, thus making it the deserved winner of the IBP 2017 in the Humanities.
---
The ICAS Book Prize (IBP) was established by the International Convention of Asia Scholars (ICAS) in 2004. It aims to create an international focus for academic publications on Asia, thus increasing their worldwide visibility. The biennial ICAS Book Prize is awarded for outstanding English-language works and dissertations on Asia, in the Humanities and Social Sciences. Since 2015 the IBP English Edition is sponsored by The Asian Library at Leiden University. In 2017 the biennial IBP will for the first time also award outstanding works on Asia in the Humanities and Social Sciences, in the following languages: Chinese, French, German and Korean.
Since its inception the IBP has grown from an experiment with 50 books and 5 dissertations submitted to an established prize with more than 200 publications submitted by 60 publishers worldwide and 100 dissertations competing. Therefore a new category of prizes has been added since 2013: The Reading Committee Accolades. This gives the Reading Committees the opportunity to single out more books and dissertations than just the winners. In 2007 the Colleagues' Choice Award was established. This award is determined by the public, who can cast their votes online through the IBP Polling Booth from 16 March 2017 to 1 July 2017. For more information on the IBP Winners and Accolades, please click here.