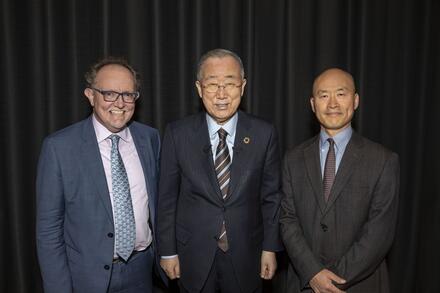 Former United Nations Secretary-General Ban Ki-moon visited Yale on May 3rd to deliver the Coca-Cola World Fund Lecture at the Whitney and Betty MacMillan Center for International and Area Studies. The event was co-hosted by MacMillan Center Director Steven Wilkinson and the Center's Council on East Asian Studies (CEAS) Chair Hwansoo Kim.
 "It was a great honor for the MacMillan Center to host former Secretary-General Ban Ki-moon at the Coca-Cola World Fund Lecture," said Wilkinson. "SG Ban's forthright appeal to our students to become active global citizens who address the world's most pressing issues, such as climate change and the COVID-19 pandemic, aligns closely with the mission of the MacMillan Center itself."
In his remarks, Ban encouraged the audience of Yale students and faculty to think of themselves as global citizens and work actively to avert the crisis of climate change. He reflected on the development of the Paris Climate Agreement, including the withdrawal of the United States, and advocated a moral obligation to address the impact of climate change, especially on developing nations. Ban also noted the inequity caused by the impact of COVID-19 on developing nations and urged a commitment to global vaccination programs, stressing the interconnectedness of the world and the danger of not addressing public health concerns on a global scale.
The Coca-Cola World Fund at Yale was established in 1992 to support intersecting endeavors among specialists in international relations, international law, and the management of international enterprises and organizations. Previous lecturers in the series have included Michael Doyle, Gary Hart, Tom Friedman, Nicholas Kristof, Luis Moreno-Ocampo, Sam Nunn, Sadako Ogata, Samantha Power, Mary Robinson, Raghuram Rajan, Eboo Patel, Mo Ibrahim, Marwan Muasher, Raila Odinga, John Githongo, Deborah Brautigam, Mahmood Mamdani, Sarah Chayes, and Sergio Jaramillo.
Click here to view the video recording of the event.