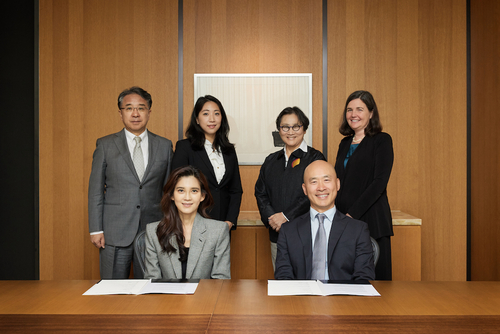 On June 2 in Seoul, Hotel Shilla and the Council on East Asian Studies at the MacMillan Center signed an agreement for in-kind support for Korean Studies at Yale University. This agreement aims to provide accommodation at Shilla Hotels nationwide in Korea, supporting students and faculty in their research related to Korea. Spearheaded by Dr. Hongnam Kim '85 Ph.D. (Art History) in consultation with Boo Jin Lee, President & CEO of Shilla, and Ingyu Han, President and COO of Shilla, this gift will promote and facilitate academic engagement and research on Korea.
Each year, two rooms at any branch of the hotel in the country can be utilized for up to a month each by Yale students and faculty conducting research. President Boo Jin Lee celebrated this connection as the beginning of her support of Korean Studies at Yale. Dr. Hongnam Kim, a Yale alumna who previously served as the Director of the National Museum of Korea, stressed the need for opportunities for researchers to visit Korea to explore historical sites, museums, and cultural heritage sites. "Providing accommodation may not seem significant on its own," Dr. Kim said. "But it reveals how much interest and support Korean companies have for the development of Korean studies, regardless of the scale or amount involved."
Unlike Yale's Japanese Studies or Chinese Studies programs, which benefit from substantial support from domestic companies, Korean Studies has traditionally faced difficulties in terms of corporate sponsorship and specialized educational resources. Dr. Kim expressed hope that the "hidden contribution" of Shilla's sponsorship may be a positive impact on Korea's culture of corporate philanthropy.
At Yale, student and faculty interest in Korean Studies has increased over the last several years. Korean popular culture, including K-Pop, film, and television, has helped to drive student interest in language studies. The Council on East Asian Studies has increased the number of Korean Studies courses available to students, while working toward expanding opportunities within the undergraduate major, the M.A. program, and Ph.D. research.
CEAS Chair Professor Hwansoo Kim affirmed, "This is an important resource for Korean Studies at Yale, and we are very grateful to Hotel Shilla for their support. On behalf of our students and faculty, I express my thanks to Dr. Hongnam Kim, Boo Jin Lee, President & CEO of Shilla, and Ingyu Han, President and COO of Shilla. As the study of Korea continues to deepen and expand, I am very excited for the research outcomes this will help to facilitate."