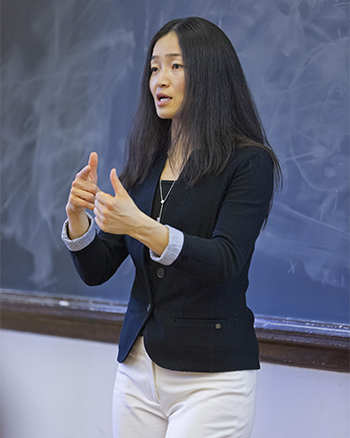 Jing Tsu, professor of East Asian languages and literatures and of comparative literature, was recently honored as a 2016 Guggenheim Fellow.
A literary scholar and an expert on the cultural history of China, Tsu is the author of "Sound and Script in Chinese Diaspora," which is currently being translated into Chinese. In 2011, she was awarded a multi-year New Directions Fellowship from the Andrew W. Mellon Foundation to pursue a project on the Chinese script in the age of the western alphabet. Her forthcoming book, titled "The Kingdom of Characters: How China Won the Language Wars and Rose to Global Power," will be published by Riverhead Books, a division of Penguin Random House.
Tsu met with YaleNews to discuss how the discovery of the first Chinese typewriter user's manual was akin to winning the lottery for her, how the concept of "sympathy" plays a significant role in her teaching, and what she learned from working with scientists.
The following is an edited version of that conversation.
What does winning a Guggenheim Fellowship mean to you? What are you planning on researching during your fellowship year?
Winning a Guggenheim Fellowship is a meaningful nod to how important it is to learn about China and the changing world we live in today. I feel very gratified that the Guggenheim Foundation acknowledged the usefulness of a humanities approach to various areas that are outside of its normal purview.
During my fellowship year I will be finishing up my book "The Kingdom of Characters," which focuses on how the Chinese script has been infiltrating the alphabetic media for more than 400 years with a particular focus on the 20th century. The research for this book started eight years ago with the discovery of an 1897 user's manual for the first Chinese-language typewriter. I was surprised that it was authored not by a Chinese but an American Presbyterian Missionary, Devello Zelotos Sheffield.  I really wanted to find out why it didn't look like any typewriter we know now.
How did this discovery impact your research and scholarship?
While I was working on my second book I made my first foray by devoting an entire chapter on a Chinese Anglophone writer in the United States named Lin Yutang. He had a whole other passion in his life much greater than writing, which — like Sheffield — was to develop a Chinese language typewriter. While writing about Lin's typewriter, I realized then that I was sitting on a much bigger story about the Chinese script. So I went down the rabbit hole and started piecing together the bigger, global picture from archives and interviews with linguists, software engineers, and neuroscientists. It was really one of those classic moments for a scholar, where winning the lottery is coming across an important forgotten story that had never been told. This was a real "treasure hunt" kind of moment. It was going to unveil a history of how the Chinese script survived and prevailed in a technological age dominated by the western alphabet. I realized it was change the China story we know, because it's not about age-old Orientalism but a fresh and remarkable story of cooperation and mutual infiltration between China and the West. I have always been very interested in historical artifacts and how to connect the dots between lost or unknown stories from the archives. I get excited about things that other people didn't think were important enough to go in the annals of official history or to be written about extensively as threads to a story. By themselves the pieces don't look like much of anything, but if you look at enough of their patterns, you begin to see a new context, and understand that they all add up to something.
As a humanist, what was it like to work with people in various different fields for your book "China Off Script"?
I've spent quite a bit of time with scholars who study ancient Chinese paleography and in other fields such as neuroscience, typography, and software encoding. Having the opportunity to meet people in these disciplines, with whom I normally would not have that much contact, has been a real adventure for me.
Working with scientists on this project has been fascinating and exhilarating because in their own approach they are always in tune with what is going on in the world right now. There is an immediate applicability and relevance to what they do and as a humanist, I find that very exciting. It is like living off of the energy of the world to the beat of the world. As a humanist you take a step back, you reflect, and you think of deeper connections. Scientists are presentists. In many ways this is why I am interested in writing "The Kingdom of Characters" because my characters in all seven chapters are innovators, so in some ways I am trying to capture these science minded people in my writing.
You teach a course with an interesting title, "Sympathy and Its Limits." Tell us about it.
"Sympathy and Its Limits" is a comparative literature graduate seminar that I taught for the first time last year. One of the key questions raised in this class is: Do we have the capacity to sympathize with everyone? Or in the end do we have to pick and choose and prioritize only those who are dearest and nearest to heart? This class raises philosophical and existential questions of sympathy in an attempt to understand how that ethical responsibility applies to many concerns in the world today. From strangers to the environment even to animals, this class on the topic of sympathy has a very broad range of implications. It was very inspiring for me to teach because my scholarly research has always focused on working on topics related to China, not to probe greater lessons beyond China. The aim of this course is to show how these concerns are not just China's alone but they have something to tell us about the world and ourselves. I will continue teaching this class in the future.
Why is important for students to study the humanities?
I believe that a humanities education gives us a window into other people's experiences. It is a laboratory in many ways, in which we can learn how to put ourselves in other people's shoes and how to feel and understand the evolution of their own particular world views. Humanities is not a specific method; instead it teaches you how to create new ways of understanding, to take on that responsibility as an integrated thinking and feeling being. This has become even more important to me this year because I started teaching a course called "China in the World." This course focuses on six contemporary headlines in historical time. I have 35-40 students in the class and of them maybe four or five are humanities students. The rest are from economics, political science, and various other wide-ranging disciplines. It is energizing to teach these students because they will probably go on to start hedge funds or to lead tech companies and this is the chance for them to explore how they can think about the world differently. It is remarkable to me how thoughtful, curious, and hungry they are to discover a culturalist interpretation behind what they see as numbers, statistics, and straight politics. Being a humanist, my task is to help them see beyond these strict boundaries and help them to venture out and imagine their own possible place in the world. I think the greatest part of a humanist education is that we can continually train ourselves to see new connections and larger patterns — a resource for experiencing sympathy.
What are some of the key ideas you want your students to consider?
I want my students to read the world and understand that things are not always as they seem at first glance. I want my students to be able to use lessons about culture and history to help them interpret and excavate the deeper layers of the reality we all inhabit but can in fact perceive in very different ways. I hope they use curiosity and compassion to handle the difficult differences they will no doubt encounter in the world.
Bess Connolly Martell, YaleNews