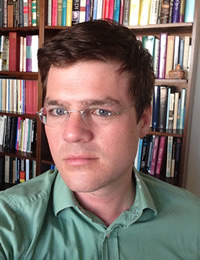 Nick Frisch, a doctoral student in Yale's East Asian Languages & Literatures program, is the winner of the MacMillan Center's competitive William J. Foltz Journalism Award. His submission, "How China lost Taiwan," appeared in The New York Times on January 28, 2016. Frisch's research interests include intellectual and media history in late imperial China, and contemporary uses of the past.
"Taiwan, once a fixation of Washington's Cold War policy, is largely forgotten by Americans today," said Frisch. "But the legacies of America's economic engagement and security commitments in Taiwan remain. This article was an effort to re-focus attention on the oldest frozen conflict in the Pacific Rim."
The Journalism Award is an annual prize named for William J. Foltz (1936-2013), the H. J. Heinz Professor Emeritus of African Studies and Political Science. Articles entered must relate to some aspect of international affairs, area studies, or foreign relations, and treat the subject with originality, be well-written, and help the audience gain greater knowledge and understanding of international issues.
For more information, visit the website.​