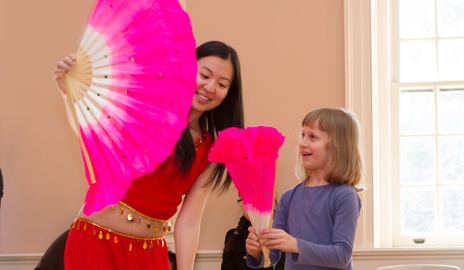 Lunarfest, a day-long event featuring arts and cultural programs in celebration of the Chinese Lunar New Year, will take place on Saturday, Feb. 21. The event is co-hosted by the Council on East Asian Studies at Yale, the Yale-China Association, and the New Haven Museum.
The festivities marking the start of the Year of the Ram (also called the Year of the Sheep or Goat) will begin at 10 a.m. with a lion dance — which tradition holds will bring good luck and prosperity to the New Haven merchants and community members. The procession will take place on Whitney Avenue, between Grove and Trumbull streets, and feature the Wan Chi Ming Hung Gar Institute's lion dance troupe.
There will be a special performance by members of the troupe at the intersection of Whitney Avenue and Audubon. Joining them will be the Repertory Dance Company of ECA (Educational Center for the Arts), Yale Wushu, Southern Connecticut Chinese School, and the Connecticut Yankee Chorus (an all-male a cappella ensemble).
The celebration moves indoors noon-4 p.m., with a variety of arts, cultural, and culinary activities at three locations: Henry R. Luce Hall, 34 Hillhouse Ave.; the Yale-China Association, 442 Temple St.; and the New Haven Museum, 114 Whitney Ave.
The events at Luce Hall will include food and tea sampling, as well as arts talks and demonstrations.
The Yale-China Association is hosting an exhibition titled "Precious Driftwood," which showcases treasured items from six families in the Greater New Haven area. The objects on display all demonstrate a facet of the intermingling between Yale and China, be it through immigration or an exchange of cultural ideas.
The New Haven Museum will offer classes in Chinese language and instruments, and opportunities to learn about traditional Chinese dances, Wu shu, paper cutting, lantern making, and paper quilling. There will be a painting demonstration with Cao Xiaoxing and a calligraphy demonstration with Shen Dawei.
The day will conclude with a performance by the EastRiver Ensemble, a New York City-based group that uses traditional instruments to perform traditional Chinese music, at 4 p.m. in the New Haven Museum.
All activities are free and open to the public, but space is limited for some activities. Those interested in the Chinese language and instruments classes must register at noon in the lobby of the New Haven Museum.
Note: In the case of light rain or snow, the morning's activities will be moved inside to the Luce Hall auditorium. In the case of inclement weather, Lunarfest 2015 will be postponed until Saturday, Feb. 28.
The ram is one of 12 designated animals celebrated in the Chinese culture based on the lunar calendar. The Year of the Ram begins Feb. 19, 2015 and will end on Feb. 7, 2016.