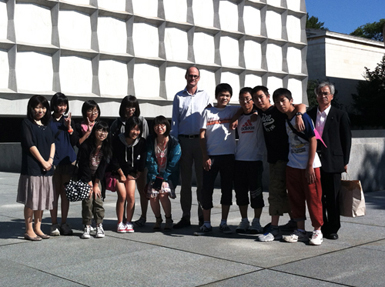 On July 30th, 2013, the Council on East Asian Studies had the pleasure of hosting 10 junior high school students from Nihonmatsu, Japan. Coordinated by the City of Nihonmatsu's Board of Education, 2 students from 5 junior high schools in Nihonmatsu are invited each year to take part in a pilgrimage to the United States to honor the memory of Professor Asakawa Kan'ichi.
The young students began their visit by paying their respects to Professor Asakawa, laying flowers on his grave. The students then had a full tour of the East Asia Library and the Beinecke Rare Book and Manuscript Library, and were given the opportunity to see for themselves some of the Professor's original writings. The group then visited the Asakawa Garden located in the Killingworth Courtyard in Saybrook College, and ended the tour with a lunch at the Jonathan Edwards College dining hall. Click here to see photos!
We are always happy to receive our friends from Nihonmatsu, and we look forward to seeing them again next year!