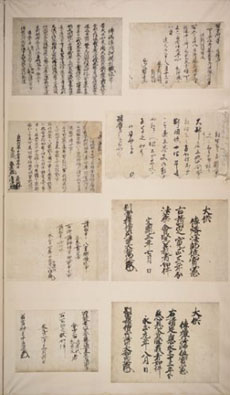 Last fall, a set of priceless Japanese documents returned to the Beinecke Rare Book and Manuscript Library after two years of painstaking restoration at the University of Tokyo. The documents date from the twelfth to the eighteenth centuries, and concern the history of two of Japan's great Buddhist temples, Todaiji and Kofukuji. 
The documents form part of a collection of historical materials first presented to Yale in 1934 by its oldest overseas alumni group, the Yale Association of Japan. The idea for this gift originated with historian Kan'ichi Asakawa '02PhD (1873–1948), whose appointment to Yale in 1907 made him the first Japanese to hold a regular position at a US university. In the 1920s, Asakawa called on alumni in Japan to assemble a collection for an East Asian museum at Yale. It was no doubt to facilitate the display of the documents in such a museum that, before they were sent to Yale, a decision was made to mount 27 of them on two folding screens. The screens came to be known as the Harimaze Byobu ("screens with mounted documents"). Sadly, Asakawa's dream of a museum was never realized, and by the twenty-first century, the documents had begun to deteriorate. 
Fortunately, in recent years, a grant from the Japanese government has allowed scholars from the University of Tokyo's Historiographical Institute to regularly examine the Asakawa collections. During these visits, the institute's Shigekazu Kondo confirmed that the Harimaze Byobu's two oldest documents—dating from 1192—bore the personal mark of the monk Chogen (1121–1206), an important figure in Japanese Buddhism. This underscored the need for preservation. Experts in Japan led by Akihiko Takashima removed the documents from the screens and remounted them on sheets of specially prepared paper that would help protect them. 
The Harimaze Byobu, in fact, were first assembled at the Historiographical Institute in the early 1930s. Now, 80 years later, scholars at Yale and the University of Tokyo have worked together once again to ensure the future of these remarkable materials from Japan's medieval past.
By Daniel Botsman, Professor of History at Yale for Yale Alumni Magazine. Professor Botsman teaches and writes on Japanese history from 1500 to the modern era.