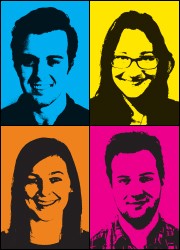 All are welcome to join the opening reception for the new Student Research at
YUL
exhibit on Monday, January
25th
from
2-3pm
in the Sterling Library exhibits corridor. Students and nominating librarians will give brief remarks at 2:15. Light refreshments will be served.
This annual exhibit in the Sterling Memorial Library Exhibits Corridor highlights four Yale students' exceptional research at the Yale University Library. The subjects represented are as diverse as the Yale Library collections and convey a combination of both complete and ongoing research. Students share key library resources important to their research ranging from online databases to favorite study spaces.
Curators are: John D'Amico, East Asian Studies, Davenport College '16; Eve Houghton, English, Davenport College '17; Mary Jones, Music, PhD Candidate Graduate School of Arts and Sciences; David McCullough, American Studies, Pierson College '16.