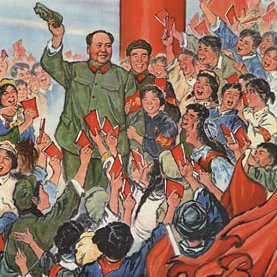 Mundane objects — from cutlery to wall decorations — form an integral part of everyday life, according to assistant history professor Denise Ho, who used this basic principle to co-advise an online exhibit about Mao-era China.
The "Mao Era in Objects" project, spearheaded by professor Jen Altehenger from the University of Oxford, compiled information and photographs regarding 24 objects from Mao-era China. These artifacts included a wristwatch, borrowed books, dance props and Mao posters. According to Altehenger, all of the objects on the website contributed greatly to the experiences of people living in the People's Republic of China between 1949 and 1978, during Mao's regime. The website, which is partly intended to serve as a teaching resource, includes essays about each object that describe their significance and provides anecdotes from people who used the objects.
"If you were to go to a museum exhibition about the Mao period, you would probably see a lot of objects that were, for lack of a better word, propaganda objects, like the Mao badge or the Little Red Book," Ho said. "We were very interested in thinking about the diversity of objects that one might have as part of their everyday life … It gives people a really tangible connection to the lived experience –– the everyday experience –– of people in a totally different time and place."
The website looks to inform people who want to learn more about China during the Mao period. Specific parts of the website were also created to help British students study for their college entrance examinations by exposing them to information not covered in most history classes about China, according to Ho.
"I think the Mao-era is very misunderstood because the average person does not learn enough about China in school, at least not in Europe," Katrin Heilmann, an assistant with the project, wrote in an email to the News. "A lot of what we think we know about China is very partial and often superficial."
For Ho, the questions these objects raise about life during Mao-era China are precisely what make the pieces interesting.
She explained that divorce papers from this period can reveal much information but can also raise questions. Simple items can prompt questions about people's standards of living, the involvement of the workplace in everyday lives, the availability of food and water and postmarital customs.
"It's a really interesting entrée into thinking about an ordinary family," she said.
Ho and Altehenger first started working on the project in 2016 and modeled the resource loosely on a Massachusetts Institute of Technology website called "Visualizing Cultures," according to Ho. The image-based MIT website, launched in 2002, provides information about Southeast Asia and was also intended to be used for educational purposes.
For Heilmann, currently a Ph.D. student at King's College London, it is difficult to imagine a society without understanding its objects, which offer crucial insights into the materiality of everyday life. This importance of objects carries over to the Mao era, she added.
Before the "Mao Era in Objects" website, no comprehensive database existed for Mao China, according to Ho, and the only way to access information about objects from this period was through online museum catalogs.
"From now on, my perspective on bricks, cloth, enamel and other things, as well as materials, will always be shaped by what I learned during this project," Altehenger wrote to the News.
Altehenger said she is considering expanding the scope of the website in the future. She said that she invited contributors to write essays about objects of their choosing, but this open request made it so that some objects did not make it onto the website because people did not offer descriptions.
Altehenger and Ho are also collaborating on a book about the Mao period, according to Ho. She explained that they are applying their object-oriented approach to draw readers into the book and move away from traditional concepts derived from the Little Red Book and Mao badge.
Focusing on objects "helps us envision, more than a lot of other kinds of stories, what it was like to live in that time," Ho said.
The "Mao Era in Objects" website launched on Jan. 29 and was funded by an Arts and Humanities Research Council Leadership Fellowship.