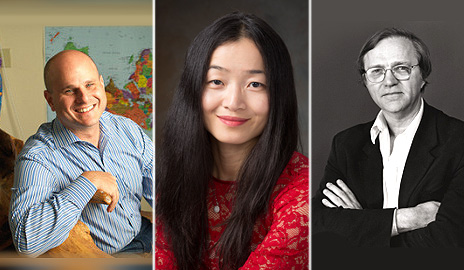 Three Yale faculty members — Dean Karlan, Jing Tsu, and Robert Storr — are among the 175 artists, scholars, and scientists from the United States and Canada to receive fellowships from the John Simon Guggenheim Foundation.
The newly named Guggenheim Fellows were chosen from a group of almost 3,000 applicants in the foundation's 92nd annual competition. The 2016 fellows were appointed on the basis of their "impressive achievement in the past and exceptional promise for future accomplishment."
Dean Karlan, professor of economics, focuses his research on microeconomic issues of poverty, typically employing experimental methodologies to examine what works, what does not, and why in sustainable income generation for the ultra-poor, microfinance, health, and charitable giving. Much of his work uses behavioral economics insights to examine economic and policy issues relevant to developing countries, with particular attention to policies to increase income and financial wellbeing for those in extreme poverty. In global microfinance, Karlan has studied credit impact, interest rate policy, savings impact and product design, social capital, credit scoring, entrepreneurship training, and contract structure. In the United States, he focuses on household finance and behavioral health. During his fellowship year, Karlan will focus on research to understand the relationship between psychosocial interventions (cognitive behavioral therapy in Ghana; religious teachings through church in the Philippines) and economic interventions (grants, training, coaching, and access to savings) to increase income sustainably for those in extreme poverty.
Jing Tsu, professor of East Asian languages and literatures and comparative literature, is a literary scholar and expert on the cultural history of modern China. She is the author of four books (two co-edited), and has received fellowships and honors from the Woodrow Wilson Foundation. In 2011, she was awarded a multi-year New Directions Fellowship from the Andrew W. Mellon Foundation to pursue a project on the Chinese script in the age of the Western alphabet. Tsu is also a senior research fellow at the Whitney and Betty MacMillan Center for International and Area Studies, a member of the executive committee of both the Whitney Humanities Center and the Humanities Program, and a faculty affiliate of the Women's, Gender, and Sexuality Studies and Ethnicity, Race, and Migration programs. Tsu will use her fellowship year to finish writing a book titled "China Off Script: Language Wars and the Rise of the Underdog to Global Power," about how the Chinese script survived, and thrived, in a modern technological age dominated by the Western alphabet, from telegraphy, typewriting, romanization schemes, up to current-day software encoding.
Robert Storr, who will retire as dean of the Yale School of Art at the end of the academic year, is a painter, art writer, and curator, who is considered to be among the most prolific and wide-ranging critics. Internationally, he has written regularly for periodicals in France, Italy, Switzerland, and the United States as well as for museum and gallery exhibition catalogs around the world. He is the author of four monographs on Gerhard Richter, two on Chuck Close, and one each on Louise Bourgeois, Philip Guston, and Ad Reinhardt. Storr has also written major essays devoted to numerous internationally acclaimed artists. Storr, who has been dean of the Yale School of Art and a professor of painting since 2006, served as the first American-born director of the Biennale di Venezia 2005-2007. He has received the medals of Chevalier and Officier des Arts et des Lettres from the French Ministry of Culture. His prints and drawings are in the collections of MoMA, the Nelson-Atkins Museum, and the Yale University Art Gallery, among others.