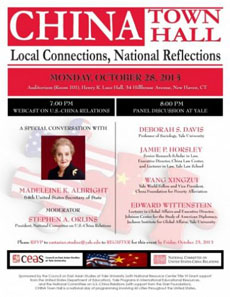 To help Americans better understand China's rapid development and the dynamic relationship between that nation and the United States, there will be a live webcast address by Madeleine Albright, the 64th U.S. secretary of state, followed by a panel discussion on Monday, Oct. 28. The events are sponsored by the Council on East Asian Studies (CEAS), Programs in International Educational Resources (PIER), and the National Committee on U.S.–China Relations.
Part of the seventh annual "China Town Hall, National Reflections, Local Connections," the two-part program will take place at 7 p.m. in the auditorium of Henry R. Luce Hall, 34 Hillhouse Ave. The event is free and open to the public, but space is limited. Contact eastasian.studies@yale.edu to register. 
Albright's address will be webcast to audiences in more than 60 cities and towns across the United States. Following her talk, she will respond to questions from audience members nationwide in a Q&A moderated by Stephen A. Orlins, president of the National Committee on U.S.-China Relations. The webcast can be viewed live.
A panel discussion at Yale will follow the webcast and will feature Deborah Davis, professor of sociology; Jamie P. Horsley, senior research scholar and executive director of Yale's China Law Center; Wang Xingzui, Yale World Fellow and vice president of China Foundation for the Alleviation of Poverty; and Edward Wittenstein, executive director of the Johnson Center for the Study of American Diplomacy at Yale's Jackson Institute for Global Affairs.
Albright is chair of Albright Stonebridge Group, a global strategy firm, and chair of Albright Capital Management LLC. In 1997, Albright was named the 64th — and first female — U.S. secretary of state. At the time, she was the highest-ranking woman in the history of the U.S. government. In 2012, she was chosen by President Barak Obama to receive the nation's highest civilian honor, the Presidential Medal of Freedom, in recognition of her contributions to international peace and democracy.
CEAS and the PIER are headquartered in the Whitney and Betty MacMillan Center for International and Area Studies at Yale University. CEAS promotes education about East Asia both in the college curricula and through lectures and workshops, conferences, cultural events, and educational activities open to faculty, students, K-16 educators, and the general public. PIER develops programs designed to advance understanding of international and world regional issues through outreach to education, business, media, and the public. The National Committee on U.S.-China Relations is the leading national, non-partisan public affairs organization devoted exclusively to building constructive and durable relationships between the United States and China.