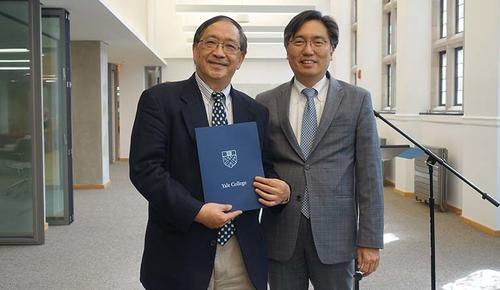 One Yale professor created a final exam that was itself a "masterpiece." Another seems to have an "endless reserve of patience." A third returned papers with extensive and thoughtful comments in blue ink, while a fourth conveyed that the Chinese language is "beautiful." Another asked provocative questions in class but also during office hours, so she could get to know each of her students individually.
For these respective qualities and more, the five faculty members — Jill Campbell, Wei Su, Mary Miller, John Geanakoplos, and Debra Fischer — were honored with this year's Yale College undergraduate teaching prizes, a top faculty honor.
Three of the faculty members were presented their awards by Yale College Dean Marvin Chun at a ceremony held May 8 in the Poorvu Center for Teaching and Learning. Miller and Fischer were unable to attend the event, but some of their students were on hand to celebrate the honor.
"We pride ourselves on being the research university most dedicated to teaching," said Chun. "Today we celebrate our very best." He added that the awardees reflect the admiration of their students, who took special care to write thoughtful recommendations for their teachers.
The prize and the award citation for Wei Su follows:
Wei Su, the Richard H. Brodhead '68 Prize for teaching excellence by non-ladder faculty
"Wei Su, senior lector in East Asian languages and literatures, your students are in awe of you.
One of them says of you: 'It is extraordinary that Su Wei can be, at once, such a dedicated teacher to the students in his classes, a generous advisor to students, like me … and an active artist.'
Another one says: 'From him, I learned to fall in love with Chinese literature. He is passionate about the subject and he is even more passionate about teaching it to his students.'
Time and again, your students talk of the inspiration they found in your courses.
'He walks into every class with such dedication and passion to teach and share the wonders of Chinese into our lives.'
'I definitely came to Yale to improve my Chinese skills. However, I now think it is more important that I found my love for the language in the class.'
'From him, I have learned the intricate nuances and tantalizing flavors of the language. More importantly, I have learned that Chinese is beautiful.'
To recognize your dedication to teaching, Yale College is honored to award the Richard H. Brodhead '68 Prize for Teaching Excellence to you, Wei Su."
Susan Gonzalez | YaleNews