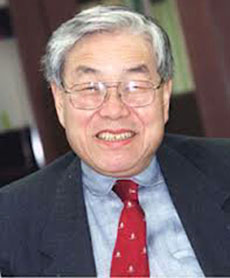 A familiar name keeps popping up in media reports about the Japanese economy: Koichi Hamada.
The name is familiar in New Haven, because Hamada taught at Yale from 1986 to 2013 and is now Tuntex Emeritus Professor of Economics; he keeps an office at the Koerner Center. In global financial circles Hamada's name is familiar because he stands near the center of innumerable conversations about "Abenomics," the ubiquitous nickname for the bold economic strategy of Japanese Prime Minister Shinzo Abe.
In recent months The Wall Street Journal, The New York Times, Bloomberg, Reuters, and The Economist all have taken an interest in Hamada, often relying on him for insider commentary on Japanese economic policy. Some describe him as the "architect" of Abenomics, which the Times has characterized as "one of the world's most audacious experiments in economic policy in recent memory."
Japan has one of the largest economies in the world — third, behind China and the United States — but a debt-laden one that has stagnated for decades. Abe's return to power at the end of 2012 (he was briefly prime minister in the mid-2000s) has brought a tentative economic resurgence, and new prominence for Hamada, an expert on the Japanese economy and international economics.
Hamada came to know Abe during a leave from Yale (2001-2003), when he served as president of the Economic and Social Research Institute of Japan's Cabinet. "At that time, Shinzo Abe was deputy cabinet secretary," Hamada said. "I met him at Koizumi's Council of Economic and Fiscal Policy." Over time they grew close and Abe designated the professor as a special adviser.
Abe's economic policy has three "arrows," as Hamada described it for YaleNews: "Bold monetary policy, flexible fiscal policy, and a strategy for promoting growth." This has involved sharply increasing money supply, depreciating the Japanese currency (the Yen), promoting corporate deregulation, and spending by the government to stimulate the economy.
"The Japanese economy was suffering from deflation and appreciation of the yen, all being monetary phenomena," Hamada wrote to YaleNews during a recent trip to Japan. "We had to pay strong attention to monetary policy that was neglected."
(Monetary policy refers to central bank policies affecting the supply of money.)
By many accounts, Abenomics appears to be working, though concerns remain about Japan's massive debt, about two-and-a-half times the size of its entire economy. Which means there's still plenty for Hamada to think about.
In retirement, he had been playing piano. Lately, he said, "It is difficult to find time."
By Eric Gershon, Yale News