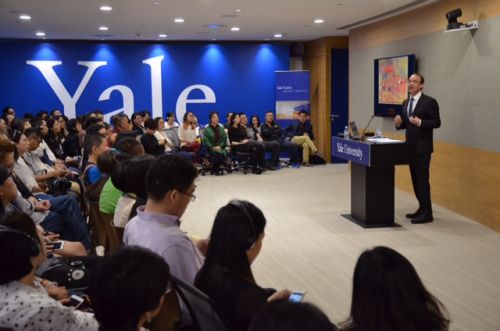 A new speaker series, co-sponsored by the Council on East Asian Studies at Yale University (CEAS) and Yale Center Beijing (YCB), provides a platform for Yale faculty who conduct research on Asia from across disciplines to speak in Beijing.
The series, titled "Asia in the World," kicked off when an audience of 100 showed up to hear Andrew Quintman, associate professor of religious studies, speak about the life of Buddha Śākyamuni in literature and art.
The series is an evergreen platform for Yale faculty to showcase cutting-edge work that presents new perspectives on Asia. Upcoming events include Professor Katerina Clark on "Borders: Leftist Internationalists and Their Cultural Interactions, 1917–1943" on June 28; Professors Youn-mi Kim and Mimi Yiengruksawan from the Department of the History of Art jointly presenting on Aug. 15; and Jing Tsu, CEAS chair and professor of East Asian languages and literatures and of comparative literatures, this fall.
The speaker series aims to combine the network and area expertise of CEAS faculty and staff with the convening power and state-of-the-art facilities at YCB. 
CEAS is headquartered in the Whitney and Betty MacMillan Center for International and Area Studies at Yale. CEAS serves as Yale's interdisciplinary hub for the study of all aspects of East Asia and its constituent peoples, cultures, and societies. For over 50 years, it has promoted education about East Asia both in the Yale curricula and through lectures, workshops, conferences, film series, cultural events, and other educational activities open to students, faculty, and the general public. With nearly 30 core faculty and 20 language instructors spanning 10 departments on campus, East Asian Studies remains one of Yale's most extensive area studies programs.
Yale Center Beijing, Yale's physical footprint in Beijing, is open to faculty, staff, and students from across the university. Recent activities include a discussion with Yale alumna and British ambassador to China Barbara Woodward, a conversation between former president of Mexico Ernesto Zedillo (via video conference) and the head of the Brookings Tsinghua Center on global governance, and a week-long program for exceptional high school students run by Yale Young Global Scholars. The center includes video-conferencing capabilities that connect New Haven with Beijing.