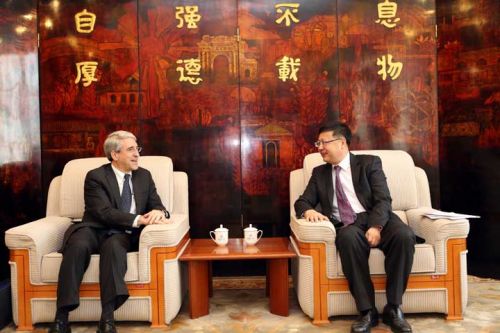 Nearly 200 business and social sector leaders from around the world took part in a conference in Beijing Oct. 27–28 to launch the new Yale Center Beijing, the university's first physical center in China. 
"Today we celebrate something brand new, a physical presence that represents all of our university — all of Yale's schools, departments, and programs. This is Yale's first university-wide center outside of the United States," said Yale President Peter Salovey at the conference. "We have come to Beijing because the Yale-China connection has been and remains the most important component of Yale's internationalization strategy over the last decade." 
"We have come to Beijing because the Yale-China connection has been and remains the most important component of Yale's internationalization strategy over the last decade."
— President Peter Salovey
In addition to Salovey, the conference attendees included Zhang Xinsheng, president of the Chinese Education Association for International Exchange, president of the International Union for Conservation of Nature, and executive chair of Eco-Forum; Ann Veneman, former U.S. secretary of agriculture and former executive director of UNICEF; Wang Cizhao, president and professor at the Central Conservatory of Music; Charles Chao, chair of Weibo; and Edward A. Snyder, dean of the Yale School of Management (SOM), which is managing the Yale Center Beijing on behalf of the university. 
A space to connect, to discuss
Located in the Chaoyang District of China's capital, the 16,500-square-foot center will serve as a convening space and intellectual hub for leaders, scholars, and students to pursue a wide range of issues affecting China, the United States, and the world, including healthcare, global warming, technology, the economy, and the arts. The center will host a year-round series of workshops, meetings, classes, and other events developed by Yale schools and programs in collaboration with partners in China.  
"We're very happy to be in the Chaoyang District. We think this is the right place to complement the tremendous programs we have elsewhere in Beijing, with universities in China, and throughout Asia," said Snyder. "This space is neutral — it's connected, it's for discussion, and [it] is tremendous in bringing our best thinking about how to organize discussion and learning from Yale to China." 
Announced in April, the Yale Center Beijing, designed by M Moser Associates, has been funded through gifts from two Yale alumni — Neil Shen, managing partner of Sequoia Capital China and Brad Huang, founder and chair of Lotus Capital Management — and by Yale friend Xiaoping (Bob) Xu, the founding partner of ZhenFund. 
"Yale has a long history with China as well as with Chinese students," Shen said last spring. "We admire how Yale has been convening so many thought leaders in China, and we want this center to facilitate and accelerate those efforts and to cultivate academic and culture exchanges across broad range of subjects between China and the U.S. This can have widespread benefits for the future of China and, we feel, for Yale as well."  
The opening conference included six panel discussions on a range of subjects from cultural leadership to economic growth to the environment to health and wellness. Keynote talks and sessions are available for viewing.
Unlocking creativity
Robert Blocker, the Henry and Lucy Moses Dean of the Yale School of Music, moderated the first session, titled "The Musical Impulse: Unlocking Creativity for the Individual, the Culture, and the Economy." He was joined by Gao Jianjin, director of the Institute for Music Education at the Central Conservatory of Music; Klaus Heymann, chair of Naxos Group; Cizhao from the Central Conservatory of Music; and Yu Long, artistic director and chief conductor of the China Philharmonic Orchestra, music director of the Shanghai and Guangzhou Symphony orchestras, and founding artistic director of the Beijing Music Festival.
"Creativity is the coin of the realm in the digital age. We tell our students at Yale that music is the currency of hope," said Blocker. "We want them to be cultural leaders. Wherever they reside in the world, we want them to make a difference through their art, whether it be improving their communities, by living as good citizens, or by helping people around them discover and rediscover the wonder in their own lives."
The field of music was also represented at the conference by Yale School of Music alumna Fay (Feinan) Wang '10 M.M., '12 A.D., who was commissioned to write a celebratory piece for the opening ceremony, which was performed by a brass quintet from China's Central Conservatory of Music.
Dual degree in environmental studies
Sir Peter Crane, the Carl W. Knobloch, Jr. Dean of the School of Forestry and Environmental Studies (FES) moderated the session "China: Where Planetary Boundaries Meet Unprecedented Economic Growth." Panelists included Marian Chertow '81 M.P.P.M., '00 Ph.D., associate professor of industrial environmental management and director of the Industrial Environmental Management Program at FES; Xinsheng from the Chinese Education Association for International Exchange and Eco-Forum; Xizhou Zhou, director of IHS CERA; and Yu Liang, president and CEO of Vanke Company. 
"Speaking about major environmental and ecological issues is a challenge not only for China and the United States, not only for all nations, but for the first time — ever since the birth of this planet — we have a challenge for the whole earth," said Xinsheng. "We just have one planet."
Dean Peter Crane of Yale School of Forestry & Environmental Studies (center left), and He Kebin, dean of Tsinghua University School of Environment, shake hands at the signing ceremony while the presidents of their respective universities join the applause.
On Oct. 27, FES announced a dual degree program with China's Tsinghua University School of Environment. The partnership will allow students at Tsinghua to strengthen their skills in environmental policy and management, and enable Yale students to enhance their expertise in key areas of environmental engineering, including the study of industrial systems, pollution management, water treatment, and energy technology. The program will also connect Yale and Tsinghua students to leading environmental researchers and practitioners in both the United States and China. According to Crane, the first group of dual degree students will enroll this summer. 
Yale-China ties still strong after 160 years
Currently, more than 100 Yale faculty members are engaged in research in or about China. In addition, schools at Yale have developed a wide range of programs for Chinese leaders, both in New Haven and China, building on a legacy that dates to 1850 when Yung Wing — China's first student to study in the United States — began his studies at Yale.
Today, more international students at Yale come from China than any other country. Yale has also continued to grow the range of programs related to China over the past decade, including the China-Yale Advanced Leadership Program for University Presidents; the China-Yale Senior Government Leadership Programs; executive education programs for Chinese provincial and municipal environmental officials in the School of Forestry and Environmental Studies; and the Law School's China Center
In addition, the School of Public Health has trained over 500 managers for health care leadership and the School of Nursing has led intensive workshops for an equal number of nursing educators and leaders. Yale's SOM has developed a number of programs for senior Chinese business leaders and expanded its CEO Summit to China.
Yale's schools for performing arts and architecture have also been active in China, from the School of Music's long association with China's premier music conservatory to the School of Architecture's annual studio with Tsinghua to the School of Drama's recent programs with the Shanghai Theatre Academy. 
Yale Center Beijing: Connected to the world
A hub for Yale's leadership development activities, the center has been designed with advanced technological capabilities to connect Beijing with New Haven and other locations around the world. 
Key features of the building include offices for visiting faculty; workspaces for students; a discussion room with HD video-conferencing; a tiered lecture hall with capacity for 64; and a reception room for 120 people. Translation booths are situated throughout the building. In addition to supporting research and conferences, the center will also be used for admissions informational sessions and alumni events. Carol Li Rafferty '00, who serves on the board of the Yale Club Beijing, is the center's first managing director.
Several programs have already been scheduled to take place at the Yale Center Beijing in its inaugural year. This December, faculty from the School of Public Health will meet with Chinese State Food and Drug Administration officials to develop policy guidelines for regulations for the pharmaceutical industry. Early in 2015, the School of Architecture is planning a major symposium, "Icons and Enclaves: New Architecture and Patterns of Urban Development in China," which will bring together leading Chinese architects and academics with Yale School of Architecture Dean Robert A.M. Stern and other faculty at Yale and Tsinghua. 
Next spring FES will host a conference on "Sustainable Urbanization" and the China Center at Yale Law School will host a workshop that looks at China's evolving juvenile justice system. Also in 2015 the School of Nursing will use the center to conduct interviews for important research projects, and faculty from Yale's School of Medicine and Beijing Normal University will bring together experts in early childhood development. In addition, the Department of Political Science, the Jackson Institute for Global Affairs, the School of Drama, and SOM all have programs in development for the coming year.