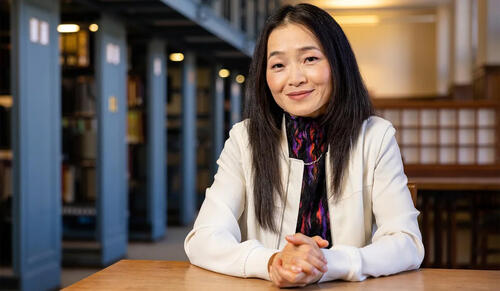 A highlight of an eventful period for Yale faculty​ member Jing Tsu is being named a Pulitzer Prize finalist.
By Susan Gonzalez
It's been a memorable year and a half for Yale cultural historian and literary scholar Jing Tsu.
In the winter of 2022, she was invited to serve as an NBC cultural commentator for the Winter Olympics in Beijing. Last fall, she was selected to deliver the 2023 DeVane Lectures, an honor reserved for faculty members whose scholarship has wide audience appeal.
And then this week, Tsu, the John M. Schiff Professor of East Asian Languages and Literatures and of comparative literature in Yale's Faculty of Arts and Sciences (FAS), was named a finalist for the Pulitzer Prize in the general nonfiction category for her book "Kingdom of Characters: The Language Revolution That Made China Modern" (Riverhead Books).
The book describes the century-long effort by Chinese innovators to adapt the Chinese language to enter the information age and a modern world of global trade that is dominated by the Western alphabet.
The Pulitzer Prize, administered by Columbia University, is one of America's highest honors for work in journalism, literature, and musical composition. This week, Yale historian Beverly Gage was awarded the Pulitzer Prize in biography for her book "G-Man: J. Edgar Hoover and the Making of the American Century."
Jing described "Kingdom of Characters" as her "first attempt to reach readers in the world beyond academia," so being one of three finalists for the Pulitzer was an unexpected honor for her.
"I wanted to write a history with a longer perspective on modern China that showed the nuances, passions, complexity, contradictions, and utterly human desires and failings that powered a country and its people to save their written language," she said. "There were many needles to thread: It had to be an original story, an experience we all relate to but differ in language, a tale that explained how the dynamics between China and the outside world evolved, a history of science that focused on a specific technology, and — most of all — a universal, human story.
"It was a challenge not to be able to use technical academic shorthand but to embed the argument in the reveal of a fascinating story with so many twists and turns that, frankly, I wouldn't even know how to make it up if it didn't actually exist in history," she added. "In the end, that was the greatest reward, to be able to shed light on a forgotten history that anticipated our present."
The book also tells the story of how a language system underwent revision to serve industrial expansion, said Kathryn Lofton, dean of the humanities in the FAS and interim FAS dean.
"Through her unique gift with the written word, Jing Tsu provides an engrossing tale of innovation and alteration, proving that how we communicate is never without political consequence," Lofton said. "I am elated that the Pulitzer committee has recognized this intellectual and scholarly achievement."
"It is a wonderful book, and the accolade is just one more for a scholar who has earned so many," said Aaron Gerow, chair of Yale's Department of East Asian Languages and Literatures (EALL) in FAS. "We in EALL are particularly excited that a work that goes to the core of what we do — interrogate the conditions and the histories of writing in East Asia — has earned such recognition."
Added Martin Hägglund, the chair of the Department of Comparative Literature: "We are tremendously proud of Jing's great achievement. Her ability to be at once a rigorous scholar, a gripping writer, and a trailblazing public intellectual is an inspiration for all of us."
Tsu also holds a faculty appointment at the Jackson School of Global Affairs and is a senior research fellow at the MacMillan Center for International and Area Studies.
Born in Taiwan to mainland Chinese parents, she came to the United States as a child, but said in a recent Yale News interview that she had to "straddle the conflicted history between Taiwan and China, and China and the United States."
Her spring semester DeVane Lecture course, "China in Six Keys," allowed members of the public to gain an understanding of China's history in the context of modern conflicts and controversies while seated alongside Yale students.
The topic of language was also a central theme in those lectures. When announced as this year's DeVane Lecturer, Tsu said that she felt "a sense of urgency" to bring a greater understanding of China to her students and the wider public because China "is a global force to be reckoned with the foreseeable future, and the country and the conflicts that arise from its presence very much has to do with our everyday lives."