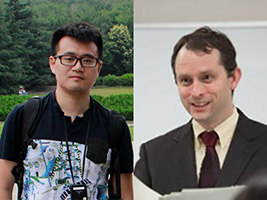 Each year, the Council on East Asian Studies awards grants to Yale University students for language study and research related to the study of East Asia.
Yale Ph.D students Dewei Shen (EALL) and Loren Waller (EALL), and School of Art M.F.A. student Christine Zavesky (Graphic Design) were among 2017's CEAS grant award winners, and we recently caught up with them to ask about their summer experiences.
Dewei Shen (EALL)
Dewei Shen (EALL) received a CEAS Field Research Grant to help support two months of research in China for his project, "On-Site Surveys of Bamboo Manuscripts and Burial Objects Unearthed from Middle Yangzi River Region (c.300 BCE-220 CE)."
To begin, could you please provide a brief summary of your research?
My research explores the intersection between materiality and textuality in the transitional intervals among the last three centuries BCE in China, a time when regional Chinese states/lord-doms were merged stepwise into an empire. Despite numerous large-scale wars en route to this emerging empire, I am fascinated by the way how different social groups interacted in a limited local society, and how they were drawn, without much violence, into the imperial "vortex" through writing and manuscript production. My project is thus aimed at understanding the sophisticated process by which such groups, while located in the periphery of "national events," were synchronized and assimilated to imperial experience by a system of technologies, with writing being an indispensable constituent. Based on new mortuary data from recent Chinese archaeology, I have invested much effort in reconstructing the daily material life of these regional groups in order to analyze their cultural-behavioral patterns as well as self-identity and ethnicity. I also intend to compare the outcomes of my analysis with the narratives offered in manuscripts that happened to be discovered from these groups' tombs. 
How did you first get interested in your topic of research?
For the past four years, I have participated broadly in surveys and excavations of sites that range from the Neolithic to the early imperial era, primarily in North China and Eastern Mongolia. Through dealing with both "talkative tombs" that yielded inscribed artifacts (e.g., inscribed bronze vessels) and "muted tombs" devoid of any text-loaded objects, I realized that a tomb could contain multiple voices, with each voice revealing either a whole different story, or just a different part of one story, about the life journeys of the dead. In other words, even if a lengthy buried text claims one thing, scrutiny of material evidence from relevant tomb(s) could allude to other lines of untold information—though they do not necessarily come into conflict. This tension of the prototypical oral testimony versus forensics in archaeological research has since captivated me. 
However, text and material are more often than not handled separately due to a (understandable) split between academic interest. To test the possibility of bringing the two sides together, I finally located the Middle Yangzi River region in South China. The water-logged environment of Middle Yangzi created an ideal condition for preserving a multitude of cemeteries from the period that I am studying, and quite a few of them contained bamboo/wooden manuscripts. The ancient cultural landscape of South China also confronted and complicated the perspectives that I had gained from my previous fieldwork in North China. Such complication motivated me to explore this topic further. 
What did you do for your summer project?
The CEAS Field Research Grant made it possible for me to travel to four Chinese cities: Wuhan, Jingzhou, Suizhou and Changsha. I completed four major tasks for my research with its support. 
First, thanks to the help from Hubei Provincial Museum, I successfully applied digital microscopic imaging to one scroll of bamboo-stripped manuscript (c. 244-217 BCE) kept in its storage house. Microscopic details show that the Qin-Han craftsmanship of writing medium made of bamboo tubes seems to have been far more intricate and labor-intensive than it was formerly estimated.
Second, I examined the use-wears of several important collections of artifacts excavated from major Chu, Qin and Han tombs in Hubei and Hu'nan provinces. I attempted to figure out how such objects had been exploited and appreciated in everyday life, and how cultural-religious meanings had been associated with them. 
Third, I contacted and talked to a group of frontline historians, epigraphers and archaeologists affiliated with Hubei Provincial Museum, Jingzhou City Museum, Yejiashan Bronze Conservation and Research Center, and Hu'nan Institute of Archaeology. I cherished the great opportunity to get to know their opinions while have my own thoughts communicated at the mean time.   
Fourth, I travelled to three large ancient walled settlements in the Middle Yangzi region for site surveys. The experience left me wondering how labor forces of the time were organized to build so many deep shaft-pit tombs and towering city walls. I was then allowed to visit a medium-sized construction site run by Dacheng Mingzuo. I learned from the first-line supervisor, Mr. Chen Yunfei, the mode of workforce management that prevails in today's construction industry. Although I cannot transplant the modern model immediately to ancient societies, the visit provided a starting point for me to entertain how ancients might optimize their labor organization for big construction projects.
What would you say were the most interesting findings of your summer research? Were there any surprises?
I was profoundly amazed by the scientifically down-to-the-business manner in which Jingzhou City Museum presented a famous male corpse. Although I had known about this corpse for so long from photos in excavation reports, I was still visually overwhelmed by how well the tissues of his body had been preserved. Gazing at it in close distance from behind the window glass, I was also enabled to make sense of many details of its life aspects that otherwise I would not consider: This man died in the year of 167 BCE (as written in the tomb manuscript) over two thousand year ago. Autopsy results disclosed that he was in his 50s and had suffered from gastrointestinal perforation and gallbladder inflammation. Given that piles of fine lacquer wine vessels were buried for him, the man might have long indulged in banquets of binge drinking and eating. Meanwhile, a brush-pen, an ink-stone, a stationery knife and six blank tablets were found in his tomb, too. It constituted such an enlightening moment for me: I realized that literacy could be so simply embodied by an ancient whose private life did not always appear lofty and intellectual.
What was the most challenging part of your summer research?  Were you able to overcome these challenges?
The more challenging part was the heat wave. Both Wuhan and Changsha hold the reputation of "furnace cities" for summer: 104°F on average during my sojourn. I fought it by a large intake of a popular local beverage called "green-bean smoothies" (Chinese: lüdou shabing). Very effective. Recommend.
Another challenge was the change of local place names that happened during the past fifty years or so. Since archaeological sites are usually described by nearby villages and/or significant topographic features, such change posed referential difficulties for people like me: an outsider and first-time visitor, who collected a number of excavation reports published as early as 1950s. In addition, some toponyms did seem subject only to the emic knowledge of the locals. I also found that a set of principal landmarks labeled in excavation reports had either been modified or completely disappeared because of accelerated land exploitations. These facts reminded me the potential risk in transcribing sites defined by place names from, say, 1970s, to today's map. To avoid the pitfalls, I always compared side by side old maps with three sources: today's paper maps, Baidu Map and Google Earth. I actively double-checked with site archaeologists as well whenever I could. 
Now that you are back on campus, what is the next step for your research? 
I am currently organizing data from my field notebooks and adding captions to photos I took in museums. I plan to write one dissertation chapter based on the findings from this trip. I hope I can arrange another trip to Hubei next year, so as to catch up with new archaeological finds as well as share my own research.   
Do you have any words of advice for graduate students who plan to do research abroad next summer?
I would suggest that try to stay aware of those cultural phenomena that you find significant during your international research trip. By occasionally asking locals about them, you may obtain some unexpected and valuable information. Take as many photos as you are (legally and customarily) allowed. It can help document your trips much more efficiently. To keep diaries of the most important things you have observed and done is also a good idea. It will pay off months later when one begins to forget some crucial details from his/her dense trips, as it happened to me time and again. To sum up, be curious, be diligent. 
---
Photos from Dewei's summer research trip are available here.
Loren Waller (EALL)
Loren Waller (EALL) received a CEAS Summer Travel & Research Grant to help support two months of research in Japan for his project, "Expressions of Antiquity in Classical Japanese Literature."
To begin, could you please provide a brief summary of your research?
I study early Japanese literature, particularly the Man'yoshu, an eighth century poetic anthology. 
How did you first get interested in your topic of research?
Since childhood, I have been fascinated by antiquity because it requires the use of the imagination to fill in the blanks, and I began studying the Man'yoshu when getting a master's degree in Kyoto. Scholarship in Japan tends to be very philological, and I learned to look closely at the manuscripts when reading poetry. Since coming to Yale, I have had more opportunities to think theoretically about literary practice and material culture. 
What did you do for your summer project?
I went to Japan over the summer to conduct several projects related to my ongoing research of early Japanese literature. My first trip was to Kochi, where I had been invited to speak about recent research being done at Yale on a 17th century Japanese calligraphy album. While in Kochi, I also visited the Kochi Prefectural Library to begin locate some archival material related to Kamochi Masazumi, an early modern commentator of the eighth century poetry anthology, the Man'yoshu. 
I also participated in a workshop organized by the Association of Narrative Studies focusing on translation theory, where I presented a paper on plant names and their connotations in Chinese and Japanese literature, as well as in English translation. In addition, I made use of materials in the Waseda University library, and visited the Institute of Oriental Classics at Keio University. 
While most of the above projects depended on the use of rare and unique materials, the most valuable part of my trip was being able to interact with and receive feedback from specialists in Japan.
What would you say were the most interesting findings of your summer research?  Were there any surprises?
Beginning around the 17th century in Japan, it became popular to collect fragments that had been cut from manuscripts, either one page or a few lines at a time, and to place them in albums, and a team has been studying one such album held by the Beinecke Rare Book and Manuscript Library. During this trip, I was shown an unusual album that cut a number of valuable manuscripts mid-line, rendering the text unreadable. This is an extreme example, but it completely changed the way I think about the aesthetics of fragmentation.
What was the most challenging part of your summer research?  Were you able to overcome these challenges?
One difficulty in research is finding creative inspiration to look at materials in fresh yet relevant ways. Such ideas often come in unexpected ways, and through putting oneself in new environments. When walking around the famous Mt. Kagu in Nara, I suddenly had an idea about how to interpret an old poem in a new and compelling way.
Now that you are back on campus, what is the next step for your research? 
I gave a presentation on my manuscript fragment research at an interdisciplinary workshop on philology in September, and will present on some other research I conducted at the Archaia Forum in November. I will continue to be involved in the team studying the Beinecke's calligraphy album, and other aspects of my research will become parts of my dissertation. 
Do you have any words of advice for graduate students who plan to do research abroad next summer?
Make an effort to network with people who can help you learn things and meet your goals.
---
Photos from Loren's summer research trip are available here.
Christine Zavesky (School of Art)
Christine Zavesky (School of Art, Graphic Design) received a Charles Kao Fund Research Grant to help support three months of research in Japan for her project, "Resonating Gestures: Merging the Hand with Technology in Textile Production"
To begin, could you please provide a brief summary of your research?
The handmade object, through its very process of becoming, reveals a connection between the mind and the body. Inconsistencies leave imprints that tell stories about a particular pace or hesitation; a history of its making. This dimension often becomes flattened through digital production.
Mechanized and manual weaving are akin in that they share a long-rooted tectonic process, yet speed and materiality draw distinctions in their inherent character. Digital technology in textiles offers a uniformity in production, but also a potential distancing through its homogeneity. Does consistency equate to material longevity, or is it another, more haptic quality that compels us to preserve things? At what scales of production can handmade and digital technologies overlap and inform each other as a lasting practice?
My research through the grant was two-fold, where first, I learned the process of Kasuri weaving through a ten-week workshop in Kyoto. Kasuri is a graphic form of weaving, where lengths of thread are systematically resist-dyed before entering the loom. As the perpendicular resists become aligned through the weaving process, the visual compositions are revealed. The resulting forms within the textile have a combination of sharp and dithered edges, sharing similar possibilities of image-making with durational web-based computations.
In addition to the workshop, my research included visits to facilities producing textiles with automated technologies, traditional practitioners in weaving and natural dying, as well as those adapting older machines for a newer purpose.
How did you first get interested in your topic of research?
My interest in textile production stems from a connection to material stories through my practice in design and manufacturing at the scale of architecture, while engaging in drawing, print, and web-based media work in the arts. Kyoto, Japan, has a multi-layered history in textile production where handcraftsmanship is celebrated in the midst of advancing digital technologies. The endurance of traditional methods of weaving and dying has been sustained through educational programs and cultural institutions facilitated by both the prefecture and local textile manufacturers.
Simultaneously a surface and an object, textiles contain the history of a process that tells a visual narrative through the organization of their fibers. I had wanted to draw from the focused textile workshop in Kyoto as a way to further inform the materiality of my practice, while testing the relationships between tools and technology, between physical acts of making and duration. Understanding how a material behaves through different methods of production reveals its potential for adaptation in the making process.
What did you do for your summer project?
I made a series of seven textile works ranging in size and technique using a counterbalance floor loom. I colored all of my yarn prior to weaving, using a combination of natural and synthetic dying in a laboratory. For my largest woven work, I set out to make a textile that exposed the duration of its weaving through handmade typography. Using the stencil-dying technique of Nassen Gasuri, I applied the date of each eight hour day I worked on the loom over the course of two weeks. This process of dying involves making stencils from Ise-Katagami paper that define a perimeter for where dye can enter into the fibers. The textile dye is gradually worked through the warp yarn by applying pressure with a brush against the back of the hand positioned underneath the material. Once the dye has set, the weft yarn is woven through on the loom.
What would you say were the most interesting findings of your summer research? Were there any surprises?
Working with Indigo had become an interest through my investigations into natural and synthetic dyes. I participated in several hands-on workshops focusing on the pigment itself, extracting it directly from fresh, oxidizing plants. I had been captivated by how the liquefied plant matter changes from green to blue in a matter of moments when exposed to air. Indigo dye has a long past in textile production, with a resurgence of interest as a sustainable dying practice.
I had the opportunity to visit a small manufacturer in Nishiwaki, who specializes in a modern form of Banshu-ori weaving. The company had recently acquired a dying facility along with a handful of mid 20th century belt-operated looms originally used for weaving denim. Both the machines and facility went through a performative transformation. The second-hand looms were modified to make a loose, almost transparent weave structure akin to the texture of traditional Banshu-ori fabric. Although these textiles are machine-made, they are continuously tended to by caring technicians, where the nuances in the texture made by subtle blemishes and shifts in tension give the impression that they were made by hand.
What was the most challenging part of your summer research? Were you able to overcome these challenges?
Knowing that there are instrumental resources beyond my initial points of research. I actively sought recommendations through the practitioners, instructors and textile artists that I had met while in Kyoto to align additional facilities to visit, as well as ancillary workshops.
Now that you are back on campus, what is the next step for your research?
For two weeks during the fall semester, I installed a floor loom at Yale School of Art's Sculpture Department and invited students to participate in the weaving of a continuous textile work. This project was a part of a broader focus in interactive design that involved a time and web-based component. While working on this type of loom, the tension of the weft yarn is manually controlled at the edges. I installed two cameras that focused on the interaction of the hands on each edge of the textile and filtered the camera feeds through JavaScript. The live videos were combined on a website that I had coded to be projected onto an adjacent concrete wall; showing the point of view of the current weaver for others to watch. Each time a new person participated in the project, a black weft yarn was woven into the textile to mark the transition.
Do you have any words of advice for graduate students who plan to do research abroad next summer?
Start the groundwork in the fall. Look for seminars and workshops in the locations abroad that can aid your research.
Information about CEAS grant opportunities can be found on the academics section of our website.
Applications for 2017-2018 CEAS grants are now available on the Yale University Student Grants & Fellowships Database. Application deadline is February 9, 2018.